'This is Design' Exhibition | Envisioning process and methodology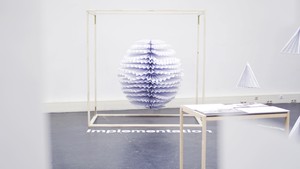 Projecttype: Exhibition design
Location: Cologne, Germany
Date: July 2018
Seeking to break from the stereotypical and inaccurate methodologies and frameworks that many use to describe the design process,This Is Design is a project of my Master academic program in Integrated Design at Cologne International School of Design (KISD). We visualizes the design process by critically looking at the phases of design from each level of analysis- the macro, meso, and micro-levels.
We studied the ways other fields (social sciences, computer science, natural sciences, pedagogics, engineering, economics, .etc…) conduct research, utilize various tools, and develop methodologies to inform our final exhibition. Additionally, we conducted our own case studies on product, corporate identity, and interaction design to investigate and evaluate our own design processes.

Process

Deliver
Five main phases of the design process were collectively decided upon the our research, which are formulation, research, ideation, shaping, and implementation. The micro-level phases we chose to represent are questioning, synthesizing, conceptualizing, deciding, and maintaining.

Each main phase is distinguished by a wooden frame that corresponds to the concept which it contains. With these phases in mind, we have used paper to design an exhibition that is a theoretical, abstract, concept of how to illustrate the design process.
Gallery
______________________________________________________________________
Team members: Akihiko Sugiura, Aura Maria Patino Casallas, Beyza Nur Ermis, Brendon Berisha, Christina Klüser, Christina Radermacher, Collyn Lucille Cooper, Cynthia Niederprüm, Diana Lara Vonrufs, Dorothee Clasen, Johanna Paula Poncar, Joshua Probst, Julia Sowada, Kadir Kara, Konrad Kilian Sadlers, Laura Gomez Sandow, Luis Ernesto Nunez Espindola, Molly Joy Oberholtzer, Neta Prizant, Patrick Zebulon Griffin, Philipp Ribeiro Tata dos Anjos, Pornkanok Sithongsurapana, Ruixiang Li, Viktoria Hannah Monika Krausert, Yi Wang
Photographer: Christian Nufer