Ua Sook | A nursing home within the mangrove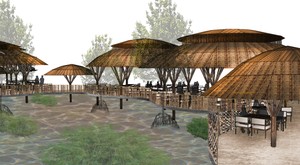 Project type: Architecture remodelling, Landscape and Architecture design
Location: Samutprakan, Thailand
Date: 2014
Uasook Pavillion is an actual project from the Thai Red Cross, which take place in an existing nursing home in Samutrpraka Province, Thailand. The project was planned to replace an old Uasook multi-purpose hall inside the area of this nursing home. The aim of this project is to remodel the image of a nursing home, bring about a more sustainable living and create a conceptual architecture that will enhance resident's quality of life during their later years.
In Thailand, Nursing home is not a very pleasant word to hear, especially for older people. They tend to think that Nursing home can only be a sad grim place for abandoned elderly. In order to replace the old image with a much friendlier one, we have to create a place with a far different atmosphere.
Site

The location of the nursing home is located in the city of Samutprakarn, a perimeter area not far from Bangkok. The site has a very distinctive character, since it has a connection to the mangrove, before being exposed to the seafront. This advantage was, however, not being brought in as a part of the nursing home at all. But instead, it was abandoned and was in a very bad condition. In this project, I decided to bring back the nature that has been left into the nursing home by creatting an architecture that connects with its surrounding, and connects with the people that reside in it.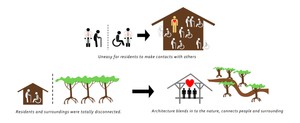 Outcome

New circulation lines is introduced in the new lay-out to help connect people. The new plan also encourages a more active lifestyle to the residents. Users will have to take a longer walk, go through the mangrove in order to use the main functions like canteen or multi-purpose hall.  

Small pavillions along the way are designed to serve as a stop when the residents get tired from walking, or work as a spot to sit and relax.

Residential area: Each house units are connected to each other with membrane-like walkway. One house unit can inhabit up to 8 people. It contains Private zone for sleeping and living area, where residents can spend their time together.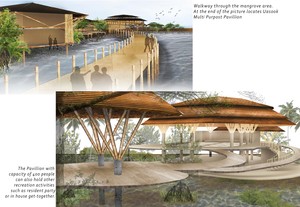 The multi-purpose pavillion Uasook locates in the middle of the mangrove. The residents can gather for special activities such as, self organised workshop where elderly can share their knowledge and skill with each other. This can help older people maintain their cognitive function and hold values and position in the society.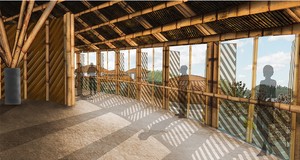 ______________________________________________________________________
Team members: Puk Sithongsurapana, Par Pongthanavaranon