Project type: Product Design, Graphic Design
Location: Thailand
Date: 2017 - 2018
 Apart from taking charge of the architectural aspect and the concept for Moonrise Farm, It is also important that the output and the final design will be able to represent the farm ecological mindset and communicate to the customers intuitively. Because the product lines will not be massed produced and distributed, the packaging and the visual language had to be strong and directly transfer our statement to the customers.
Moonrise Farm's Rose Petal Tea
Moonrise Farm's Roasted Sesame

Magicus Line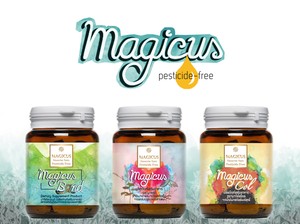 The very first products lauched outside of e-market were supplementary set. The product formular were based from the farm's pesticide free organic sesame. The design was made to represent natural derived products straight from the farm, while maintaining a reliable health-care image hence the product type.

The leaflet was designed and articulately written to both introduce the product and educate people why it is vital and better for our health to take on the preventive route.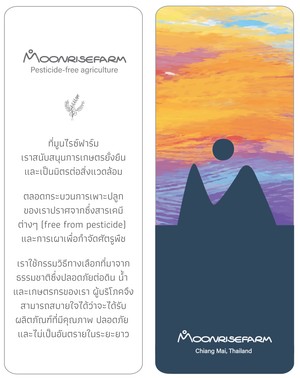 Our giveaway was designed as a bookmark to be given out at the Rimping Organic Food Fair in Chiang Mai, Thailand. In there states the farm's manifesto to present Moonrise Farm statement and educate about oeganic farmin. We realised many people throw away leaflets from other products but like to keep ours because they can reuse it and the design was visually appreciated as it does not over presenting the product like others.